If you are a fan of herbs, you may be looking to buy sage in bulk. This is a very cost effective way to get all the wonderful benefits of this herb. If you are serious about quality and want to purchase from a trusted supplier, I would like to recommend my favorite place, Starwest Botanical.
This is personally where I purchase my herbs and I have never had a problem. They are fairly priced, offer a wide variety and come with a 100 percent satisfaction gurantee on all their products.
Before you look at prices and the different sage options, check out what sage can do for you.
The Amazing Health Benefits Of Sage
This herb has been successfully used for thousands of years in a plethora of different problems. Some of the most famous herbalists of all time admired this herb and it was prevalent in many cultures like:
Ancient Greece
Rome
Ancient India
France
Early colonists of America
And many more places. In The New Healing Herbs, best selling herbal book by Michael Castleman, the author jokes "if one consults enough herbalists, every sickness known to humanity will be listed as being cured by sage."
This is meant to show how much medicinal power this herb has. Experts in the matter recommend sage for:
Digestive problems
Sore throat
Excessive perspiration
Wounds
Food poisoning
Women's health concerns
Alzheimer's Disease
Bad breath
Baldness
Body odor
Canker cores
Carpal tunnel syndrome
Gingivitis
Tonsillitis
Wrinkles
Yeast infections
Fevers
Liver and kidney troubles
Asthma
Coughs, bronchitis, and pneumonia
It's also a good source of vitamins, minerals, fiber and protein. Now you know why so many people consider it a "cure all!"
Starwest Botanical As A Company
Starwest started out as a small retailer in California back in the sixties. People quickly began to recognize the superiority of their herbs and the business took off. Plus their prices are really fair.
As a results, they've grown into one of the largest suppliers of herbs in the country. They have a modern 100,000 square foot warehouse and production space that holds millions of pounds of herbs.
They are one of the most recognized, reputable and respected herbal companies in the world. They offer a wide variety to suit any persons need too. They offer the small scale stuff for sparse and individual use and they offer bulk for any person who uses herbs often.
They even offer a 100% satisfaction gurantee! Let's get into products now.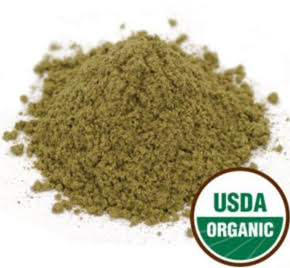 This product is USDA Certified Organic which means it was grown in the best possible manner. This is perfect for someone looking to make sage tea.
To get sage's healing powers with the leaf, you'll need 1 to 2 teaspoons per cup of boiling water. You don't want to boil the leaf, just cover and steep. Do that for about 10 minutes and strain. You can drink up to 3 cups a day and you can use this as a gargle.
White sage has a storied history with Native Americans who used it to purify and clean. Many people use this version of sage as an incense.
There are a few other sage products that are offered by Starwest. They include:
Powders
Essential oils
Rubbed leafs
Most of these products are certified organic. The essential oils can get pricey if you are buying in large amounts. For 16 ounces it will cost between $200 to $430; it depends on quality and type. They offer smaller amounts of the essential oil too and can cost as little as $11.67.
Safety Concerns
Sage is generally considered safe. If you are using to self medicate, you should talk to your doctor first for a proper diagnosis.
You shouldn't use this herb if you are pregnant and never give to a child under 2. If you are giving to an older child or the elderly, start with 1/3rd to 2/3rd the recommend dosage and increase as necessary.
Never ingest sage essential oil, it's very toxic.
Hope You Found What You Were Looking For
Sage is a wonderful herb and has so many health benefits. In order to get the best results, you need top of the line quality. Remember, mediocre herbs give mediocre results.
There are several good suppliers of herbs and I haven't found one better than Starwest Botanical. They are definitely my favorite and I've never had a problem with them. If you are interested in browsing their entire sage selection, click below.
If you have any question, comment below and I'll respond as fast as possible. If you want to spread the message about herbs for friends and family to see, share on social media.
Thanks for reading!