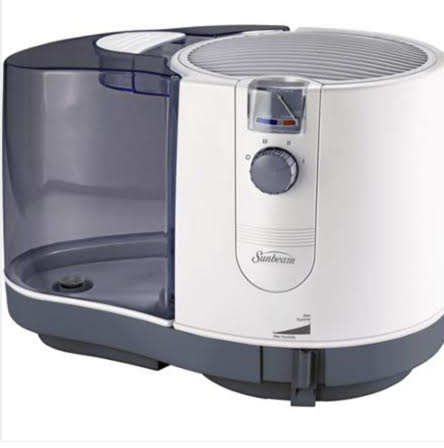 Product: SunBeam Cool Mist Humidifier
Price: $40.39
Cheapest Place To Buy: Amazon
Size: 1.2 Gallon
My Rating: 8/10
---
Sunbeam Cool Midst Humidifier Review
If you are suffering from dry air you may want to consider getting a humidifier. They help put moisture in the air and guard against:
Dry Skin
Sore throat
Dry nasal passages  (more susceptible to colds, sinus infection, and even the flu)
Cough
Nose bleeds
Chapped lips and sores (something that really effects me)
So is the Sunbeam Humidifier worth your money? I say it is, especially considering its cost and effectiveness.
How Does It Work?
It has a 1.2 gallon tank that will run throughout the night in one filling. It also has 3 settings so you can add the exact amount of humidity needed to be comfortable. You aren't going to find an easier humidifier to clean and a simpler filter to change.
How a cool mist humidifier works is pretty simple. Basically untreated and dry air enters from the back and side where it passes through a saturated wick filter.
Moisture is added to the air while sediments and other air impurities remain in the filter. A quiet fan emits a purified and moisturized mist into the air. This brings much relief.
This may seem like a small deal but it isn't. The air your breath is essential to your overall health. Air that is impure and carries pathogens is very harmful. Changing the air you breath on a consistent basis can be the most important thing you do.
Believe it or not, a humidifier prevents furniture from cracking and promotes plant life indoors too.
It's Fairly Priced At $40.39
It certainly isn't the cheapest humidifier on the market and that is actually a plus. Some humidifiers are inexpensive and are really ineffective. Plus they are known to leak and create a mess.
This isn't the case for the Sunbeam. It is quality made and you won't have to worry about it leaking all over the place. Also, it won't break the second you bring it home and the technology is cutting edge; Sunbeam is a very respectable company.
There are single room humidifiers in the triple digits, which is completely unnecessary. If you were buying a full house humidifier then triple digits is perfectly acceptable, just not for a single room.
You'll save money in the long run too. You won't need to buy chap sticks, lotions or waste time and cash in the doctors office.
It Gets Good Reviews On Amazon
It's always smart to check customer reviews on Amazon. These are from people who use the product and the reviews back everything in this article. Most people give it 4 or 5 star rating and love what it does for them. One review said they felt like they were "breathing sulfur" before getting a Sunbeam humidifier.
When I went to review Vick's cool midst humidifier it was completely the opposite. Most people gave it 1 or 2 star review and they were similarly priced. People complained that Vick's always made a mess and would break shortly after purchasing.
The one bad review that stuck out for the Sunbeam is it stopped working after 8 months for one customer on two occasions. That isn't anything I have encountered but should cause a little concern. You want to get more than a winter out of it for it to be cost effective.
One bad review shouldn't scare you away from this humidifier though. It is still quality at a really good price.
Any Precautions
Air with too much moisture is a breeding ground for mold and bacteria. These two can be extremely dangerous to your health and cause serious problems.
You commonly find over-moisturized air in basements. In many cases you will see a dehumidifier in these areas to lower moisture levels to prevent molding.
It is possible to put too much moisture in the air with a humidifier. The Sunbeam comes with 3 options so you can control humidity levels.
It's recommended that humidity levels be between 30% and 50%. You can test these levels with a hygrometer.
You also need to clean and change the filters every once in a while. Usually changing the filter every 2 months is a good plan; you should check every few weeks to make sure there isn't any mold forming.
A filter costs under 15 bucks and you can buy them with your humidifier.
Conclusion – You'll Get Your Money's Worth
This is a dependable and cost effective humidifier that will benefit you in a lot of different ways. Some humidifiers in this price range are poorly made and will disappoint. There's also some that go for hundreds of dollars that won't do much more.
This is certainly a personal favorite of mine and helps my lips from being chapped and cracking. Before my lips would burn from being so chapped and peal. Not a good feeling.
Take A Closer Look At The Sunbeam Humidifier
If you have questions please comment below and I'll respond as fast as possible. Also, share on social media for friends and family to see. Thanks for reading!