Welcome to Perfect Health At Home's Convict Conditioning Review. In this article we're going to be looking at what is Convict Conditioning, different aspects of it and most importantly is it worth your time and money.
If this is your first time visiting Perfect Health At Home I'd like to welcome you and tell you a little about myself and the website before we get into the review. My name is Dylan and I started my health journey a few years ago with one thing in mind–the truth.
I have seen and been given bad health advice in the past. You won't find any of that here. Everything is tested and honest and is only meant to give you positive health results.
Convict Conditioning–The Background
Convict Conditioning is written by a former prisoner called "Coach" Paul Wade. Wade entered the prison system at 6 feet and 150 pounds. He quickly learned he needed to beef up if he wanted to survive his stint behind bars.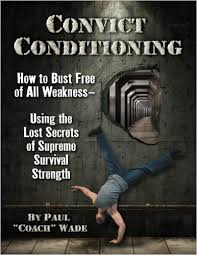 He didn't have much at his disposal and didn't have much time to learn. After bunking with an old timer he learned the secrets to getting in shape and increasing strength fast using only his body.
The old timer came from a time before steroids and other unhealthy supplements were pumped into your body to make you into an abomination of a human. This pre steroid time was known as the Golden Age of Iron Men. Men worked out for strength, size and health but did so in way that was completely natural. They used their own bodies to build massive amounts of muscle and to make themselves inhumanly strong.
Some of these men were Eugene Sandow (father of modern bodybuilding), JP Muller (who's a main part of this website and 6 week training course can be found here) and other American greats like Charles Atlas and Bernarr Macfadden. They performed extreme feats of strength like changing a car tire with out a jack (by just lifting it up!), tearing phonebooks and bending steel rods.
Wade knew any man or women could transform himself into a hulk with the right knowledge and just their body. With this in mind Convict Conditioning workout routine was born.
The workout is divided in 6 different exercises with 10 steps for each exercise. Wade uses what's known as progressive calisthenics to get you from an absolute beginner stage in each exercise to an extremely advanced and inhuman stage at level 10.
The six exercises are based around exercises you've heard of before:
Pushup
Pullup
Leg Lift
Back Bridge
Squat
Handstand Pushup
You might be wondering what's so great about a book that teaches you how to do that. What makes Convict Conditioning so great is it teaches you how to do this:
One Armed Pushup
One Armed Pullup
Hanging Leg Lifts
Standing Back Bridge
One Leg Full Squat
And the incredible One Armed Handstand Pushup
You'll learn exactly what steps it takes to go from no training and little strength to doing those incredible feats of strength.
The Good
What really caught my eye about this book is how it reads. This isn't just a boring book on exercise with dry commentary on the actual exercises themselves.
You learn about the history of bodybuilding and how great men used to workout and achieve levels of strength unmatched–even today. You'll see not only can you develop great strength with just your body, you'll see that it's actually the better way to do it.
By using your body you improve:
-Strength
-Coordination
-Balance
-Speed
You aren't just putting on useless muscles. You're actually gaining functional strength.
Also, the routine is extremely easy and anyone can work themselves through the steps. In the beginning you start with simple exercises like wall pushups. You don't even get to a full push up until the fifth level. You really focus on form and breathing in the beginning.
Also, Wade explains about putting strength in the bank and working out less now and to save yourself when you need it in the future. In the beginning you won't be working out for more than 10 minutes for each routine.
Lastly the "Big Six" exercises are really cool. Imagine going to the gym and being able to crank 10 one armed pullups or to be able to do 50 one armed pushups. There isn't a person in the world that wouldn't be impressed with that.
Also, the publisher Dragon Door is very respected in the fitness industry. They are very well known and employ some of the best athletes and trainers.
The One Bad Thing
There's not much to complain about in convict conditioning. The philosophy is really sound, the workouts are extremely smart and you learn some of the best exercises in the world.
The only bad thing (and i'll explain how to turn into a positive in a second) is it can be slow to learn.
People who are in good shape will probably find it too slow. The first few routines are only one or two of the "Big Six" and takes about 7 to 10 minutes to do.
Not only is the workouts brief but you are instructed to do each one for a month or so. Doing wall pushups and pushups form your knees (step 3) for a month can be tedious.
How To Turn the One Negative into a Positive
The best way to turn the negative of Convict Conditioning being too slow is to combine it with another workout. You can use the principles in Convict conditioning and make a  hybrid workout with other exercises.
This is exactly what I do. This book is actually the book that sparked my interest in working out–especially using your own body to workout.
I've been an athlete my whole life but never liked lifting weights. I find the process too slow and boring. I also don't like the idea of working out until exhaustion.
Which Routine to combine CC with
I'd like to introduce you to the inspiration of this website–My System by JP  Muller. My System is the perfect combo for Convict Conditioning. The video series of My System combines the power of exercise, deep breathing and self massage to scientifically relax, tone and strengthen the body. All this is done in 20 exercises and takes a total of fifteen minutes.
You not only workout your muscles, but you are strengthening your lungs, internal organs and skin in the process. From this your digestive system improves, you improve you lung capacity, and wrinkle proof your skin for life.
I mentioned I hated working out to exhaustion. This routine is the opposite and you have more energy after working out then before.
You can learn more about My System Here
What makes the two a perfect combination is My System has three of the "Big Six" in the routine–the pushups, squats and leg raises. You can easily work the last three exercises of Convict Conditioning into your weekly exercise schedule. In Convict Conditioning 2 (the next book in the Convict Conditioning series) Wade mentions JP Muller and My System as an innovative workout routine.
Of the two My System is the superior exercise routine. So if you are only going to dedicate yourself to one make sure it's My System. But, combining the two even improves on the genius of My System and you won't be disappointed with that decision.