Having cellulite can be a struggle and most people aren't sure how to get rid of cellulite on thighs or anywhere else on their bodies. Most people believe the only way to fix this problem is through risky, expensive and painful procedures or to pay small fortune on different types of creams and lotions.
Almost everyone is completely unaware of the actual solution to the cellulite problem and  is misinformed about the proper way to care for your skin and how prevent and remove cellulite. Preserving your skin is easily done with no lotions, creams or any other instrument other than your hands; it can be done all naturally.
How you do this is through the proven health regimen called My System by health expert JP Muller and the Perfect Health At Home's six week video training course inspired by My System and other health experts. Using the information in the video course will:
-Give you the information needed to prevent cellulite in the future
-Remove cellulite if you already have it
-Remove wrinkles anywhere on your body
-Tone your skin and make it soft and smooth as velvet
Before we get into the course let's look at what cellulite is and why common treatments just aren't the answer.
What is Cellulite and Who does it Affect
All cellulite is fat deposits that begin to push through layers of connective tissue under the skin. This causes unsightly dimples to form and the most common spot for the dimples to form is the thighs, hips, your arm and stomach.
Basically this problem stems from a lack of exercise, muscle tone and proper skin care.
Unfortunately this is a problem that only really affects women. 90 percent of women develop cellulite in their lifetime and only 10 percent of men do. This is mainly because women tend to carry more fat and have more hormones.
90 percent is an alarmingly high number of people to suffer from this condition. This tells me one things about modern skin care and skin care products–They don't work!
The reason lotions don't work is because it merely gives the illusion of good health. When you put on lotion it improves your complexion superficially but does nothing for the underlying cause; your skin will suffer from it's root problem.
The Two Secret Keys to Perfect Skin 
The first key to perfect skin is something I'm sure you are familiar with–Cleanliness. Cleanliness comes from showering daily and using soap. This cleans the dirt from your body and unclogs your pores.
The second key to keeping healthy skin and preventing or getting rid of cellulite is friction.
This may sound strange but it's true. Friction "exercises" the million of capillaries of the skin and makes them sound, strong and hearty.
Your skin is extremely important to your body's overall health; it's your first line of defense against germs and bacteria and is also responsible of getting rid of waste in your body.  When your skin is weak germs and bacteria easily penetrate into your body and sickness and disease develop. So you can see the importance of healthy skin.
Friction also creates a massage for the skin muscles and creates what is known as "skin tone" and "muscle tone." Strong skin is firm and soft. Cellulite is an example of loss of muscle and skin tone. 90 percent of women will have cellulite; this means 90 percent of women will develop weak skin
What Should You Do?
I mentioned earlier  My System and the video course inspired by it. The author, JP Muller (a champion athlete and health expert), understood the importance of skin and the lack of knowledge concerning the care of it. He knew friction and cleanliness were the key to perfect skin.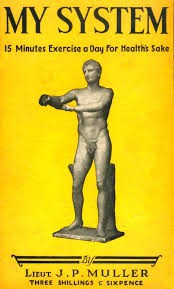 Over a period of fifty years Muller developed a health regimen and workout that completely massages and workouts every muscle and piece of skin on your body.  The best part of My System is it:
-Can be done at home
-Requires no weights or equipment
-And can be done in 15 minutes a day (The skin exercises that remove cellulite take 7 minutes)
How it Works
This is a workout you've most likely never seen before and it may be hard to picture. I'll describe it briefly now so you get a better idea of it (you can read more about the workout here).
Essentially, the workout is divided into four sections: Exercise, cool showers, self massage and deep breathing.
First Nine Exercises
The first nine exercise of My System are for your muscles, strength and flexibility. They are all bodyweight movements (which means you only use your body and no weights or equipment) and include exercises like pushups, situps and leg raises. This makes up the first 6 to 7 minutes of the routine.
In all, the nine exercises will greatly develop your muscle and make you very strong. These are movements and workouts you see professional athletes and military people do all the time.
Cool Shower
After you get done with the first nine exercise you take a cool shower; this satisfies the cleanliness aspects of skin care.
Cool showers have more health benefits than hot showers. The most important health benefit is the affect it has on your nerves. Taking a cool shower in the morning will make you steady and give you a clear head for the entire day.
Cool showers are also better for your hair and skin.
Don't worry if you think a cool shower will be unpleasant or don't think you can do it. It's important to gradually acclimate your body to it. Just slowly decrease the temperature every week and eventually the cold shower will be so pleasant and refreshing you'll never want to take a hot shower again.
Also, you shouldn't take a cold shower without warming up your body first. That's why exercising before is so important because it gets the blood flowing so you can get all the benefits of the coolness.
The Self Massage
After you completely dry off from your shower you begin the self massage that makes up the last 11 exercises of the system; this is where you will be getting the friction from and takes only seven minutes.
Basically you will be combining exercise like toe touches, squats and all sort of movements with a self massage to the skin and muscles. The massage is a simple stroking and rub of the hands to your skin.
For example you will do a toe touch and on the way down you will rub the back of your leg and on the way up you rub the inside of your legs and thighs. This tones your skin up and will prevent or get rid of any cellulite; your muscles and skin will become firm. You will literally be rubbing away any cellulite or wrinkles on your body.
There are so many benefits of this skin rub. Besides making your skin extremely strong and wrinkle proof, you will also be massaging your internal organs. These organs are so important to your over all health and performing this massage everyday will make organs like your liver, kidneys and digestive system work perfectly. This rub and massage is scientifically in  nature and guaranteed to give you results; your organs literally grow in size and strength from this.
Other benefits include better circulation and overall better looking physique. And the rub feel absolutely amazing to your skin.
You can read more about the massage here.
Deep Breathing
The skin rubbing and deep breathing is what really separates My System from every other exercise routine and is the source of most of the health.
Your skin, organs and lungs are three of the most important aspects to your overall health. The most effective way to keep your lungs healthy and strong is through deep breathing.
Deep breathing and people who breathe deeply enjoy many benefits over those who don't. Some of these benefits include:
-More confidence (Shy and nervous people breathe weakly)
-More energy (Breathing improves metabolism which is the source of your body's energy. Poor metabolism leads to metabolic diseases like obesity, diabetes, and anemia.
-Better concentration
-Mood improvement
There are many deep breathing techniques out there but a lot of them can be dangerous. I've personally witnessed and experienced harmful side effects of improper breathing techniques. Essentially, it can be harmful if done with too much strain, or improper technique. Some people believe you should only practice deep breathing after a year of learning body relaxation.
Read more about the dangers of deep breathing here
You should only take a deep breath when more air is needed. Again, Muller was ahead of the curve on this and created a completely safe mode of deep breathing without the need for a year dedication to relaxation.
This is done by practising the breathing in between exercise. For example, after a push up your breathe is elevated and a need for air is needed. You perform the deep breathe and it will be completely safe, smooth and enjoyable.
Read more about breathing benefits here and science of breathing here.
The Six Week Video Course 
At this point I'd like to say thanks for reading and visiting Perfect Health At Home. If you like this article you'll love the other articles on the site. This entire website is dedicated to the truth on health and how it can easily be obtained at home and all naturally.
I have read so many great authors across different cultures and time periods and have spent years researching and practising all sorts of different practices. Time and time again the same principle keeps popping up–The truth on health is simple. It doesn't require expensive medicine or hours of exercising in the gym.
The six week video course will bring you from absolute beginner to expert without any hassle. My System isn't on video anywhere else in the world and simplifies every exercise in the routine.
In addition, the video course will teach you:
-The truth in nutrition
-Relaxation exercises
-Powerful 5 minute stress reliever
By the end of the course you will have the tools to strengthen every part of your body inside and out; Every muscle, organs, your hair, lungs, skin will be perfectly healthy for life.
Invest your time and you will be rewarded a million times over. Thanks for reading and make sure to comment below with your thoughts and questions.