Having flabby arms can be a real blow to your self confidence. You may not want to wear certain clothes because it shows off the excess fat and might avoid certain activities because you feel embarrassed. You may be looking to fix this problem but have no clue on how to tone flabby arms.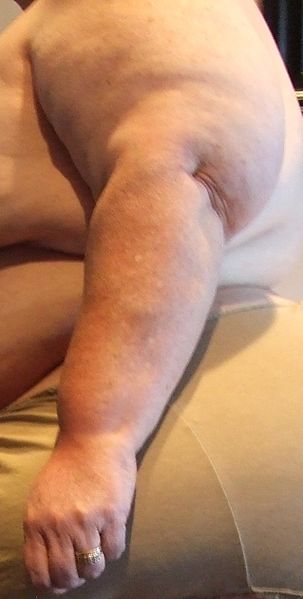 You are about to learn a very special exercise routine, called My System, that will keep your arms toned for life and do more for your body than you ever thought an exercise system could. And this is all done in a fast, fun and painless 15 minutes.
Before you learn about My System, lets look at what you want from a routine.
What to look for
When you tone your arms you have to work both the muscles and skin. Have you ever seen someone that lost a lot of weight and had lose skin drooping everywhere? They almost looked better before working out. So many exercises target your muscles only and don't compensate for your sagging skin.
Next you want a routine that relaxes your body and not exhausts it. Life is already exhausting enough without straining yourself with exercise. Wouldn't you rather give your body relaxation and rest to tackle life's obstacles? When you exercise for relaxation you get more energy after the routine than before.
You also want a routine that is fast and equipment free. Your time is very precious and you shouldn't have to workout for hours to get the results you want. You know what else is precious? Your Money. Going to the gym over the course of a few years will cost you THOUSANDS and equipment for your home will do the same. Also, when you use just your body to exercise you gain balance, flexibility and become more in-tune with your body.
Lastly, you want something that works out your your entire body and does more than just tone flabby arms. When I say entire body I really mean inside and out. You can only be truly healthy if your whole body is healthy and exercised daily. This means every muscle, every internal organ including your kidney, liver and digestive system. Also, increase lung power and like I mentioned before skin functionality.
My System Benefits
At this point you probably can't think of a single way or routine that can satisfy everything; there's a chance you think it's impossible to do all those things and especially in fifteen minutes.
After reading this post you'll know how to do it.
My System has unlimited benefits and can be performed by anyone including men, women, children and the elderly.
If you perform the routine daily you will get skin as soft as velvet and firm for life. Your skin will also be wrinkle proof for life and flab disappears.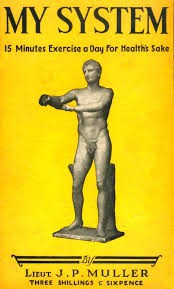 After performing the fast and fun 15 minutes you will have so much energy and be ready for whatever the day throws at you. Your whole body will be deeply relaxed and it will almost be impossible to get get angry or agitated. Your mood will improve and your mind will be very marvelously clear.
Your arms and whole body will become extremely muscular as well. This is done through body-weight only exercises and you will greatly improve physically too.
And believe it or not you will improve the functionality of all your internal organs (they're the most important aspect of your overall health and strengthening them will improve overall well being incredibly) Having powerful lungs, kidneys, liver and digestive system prevents serious diseases.
Lastly, My System is a six week program that builds up your strength and flexibility and brings anyone at any level of fitness from to beginner to expert.
How it Works
My System is made up of exercise, self massage, deep breathing and tepid showers; when combined you get all the benefits I talked about before.
There's many articles on this website about My System so I'm only going to briefly explain it. You can get an in depth look at it here.
In all there's 19 different exercises: The first 9 are regular exercises like push ups, sit ups and other movements like that. This will give your strong and proportional muscles all around your body.
After these exercises you take a cool shower. A cool shower refreshes you in a way a hot shower ever could. It also strengthens your nerves and is much better for your skin and hair. You'll be taught how to make the cool showers painless and you'll love the feeling of the coldness much more than the hot.
After your shower you perform 10 more movements. These 10 movements combine self massage and exercise. The self massage is a simple stroking to the skin with your hands and this is what tones up your skin. There's thousands of little muscles connected to your skin that lose their firmness over time if not exercised. This massage is the only way to keep these muscles in tip top shape. Any lose or flabby skin is toned up completely.
The massage also tones up your organs. They literally grow in size from the pressure and rubbing.
Lastly, there's a special breathing technique that's performed in between each exercise. This breathing is safe and strengthens your lung capacity. It also relaxes your body and immediately calms your nerves.
Breathing is directly connected to your metabolism; metabolism is the source of your energy and is made up from the combustion of oxygen and food. When you have a good metabolism your body produces more muscle tone and aids in removing flab.
Having a poor metabolism leads to metabolic disease which includes diabetes, obesity and anemia.
Breathing is also connected to confidence. Confident people breathe deep and fully and nervous people breathe shallow and feebly.
Make the Change
With the way the world is set up, its almost impossible to find time to relax effectively. Everyone has fifteen minutes a day and especially when you consider part of the fifteen minutes is your shower.
How many people just couldn't make it in life because of bad nerves or image problems? These problems can be fixed so easily and with little effort.
My System is the most concise exercise system on the planet and uses scientific means to relax and strengthen every part of your body. It's a treat and you will feel so energized and refreshed after completing it. Your youthful looks and attitude will last into your final days.
Make sure to become a member here at Perfect Health At Home and get access to the six week video training inspired by My System. Every member gets access to safe and all natural means to improve every part of their health. You can literally save tens of thousands of dollars over the course of your life by following this advice; you will  no longer need medicine to be in perfect health.
Please make sure to comment below any thoughts, questions or opinions and I'll make sure to respond. Also, make sure to share this information with friends and family through social media!