Your morning sets the tone for your entire day and starting off good is key to being productive. One of the best morning habits is a refreshing and energizing workout that wakes you up from your morning fog. There are so many different ways to workout you may be asking yourself "what is the best morning workout?"

In this article we're going to look at what's best for your body in the morning, what to avoid, and how Perfect Health At Homes video series inspired by My System exercise routine gives your mind and body exactly what it needs to have your best day possible.
Something That Gives You Energy
Did you know it's completely possible to have more energy after a workout than it is before? A lot of people think the only way to get an effective workout is through straining your body until exhaustion; which is the last thing you want in the morning.
The two keys to an energizing workout is to oxygenate the blood and loosen the joints. So when you are picking a morning routine (or any part of the day really) make sure it's something that won't make you stiff over time.
Many bodybuilders are trading long term health for short term gains. In their attempt o put on as much mass as possible they become inflexible and rigid. This rigidity packs the organs in tightly and makes it harder to breathe properly.
Your breathing is extremely important to your health and is the source of your bodies energy. In order to breathe properly you have to develop a flexible thorax (Bodybuilders get the opposite) and practice deep breathing. Doing these two will guarantee oxygenated blood and that means a good morning for you!
Also, you just spent the entire night sleeping while getting little movement. Your body is at its most stiff in the morning and desperately needs to be stretched. Doing so will relax you for the entire day.
My System focuses on building strength and flexibility while improving your breathing (And a lot more as you will see shortly.) There's a few workouts that can do this but as you will see in the next section they aren't right for mornings.
You Don't Have Much Time
A few of the other workouts I was eluding to in the previous sentence are yoga and qigong and anything like that. They are extremely beneficial workouts but they take a long time to perform. They were developed in cultures with their own people in mind; not the active lifestyle of Westerners.
If you are anything like me you may not leave yourself all that much time in the morning for a hour long yoga session. So it's very essential to pick a routine that is efficient and can fit into a hectic morning.
How Does fifteen minutes sound?
My System has 20 exercises that is performed in exactly that amount of time. This is possible because not a single second or breath is wasted in the entire routine. Did I mention that your morning shower is connected to the workout and is incorporated into the 15 minutes?
If your can't spare that much time than wake up fifteen minutes earlier. There are just too many benefits you'll miss if you don't.
Take Care of All Your Health Needs
Have you ever heard the expression you are as strong as your weakest link? This couldn't be more true when it comes to your body.
There's a lot more to your body than just your muscles, and if you only focus there you will be missing out on true health. In order to be truly healthy you have to develop every part of your body equally. This includes:
-Every muscle and not just arms or chest
-Improving lung capacity and function
-Making sure all your internal organs (kidney, digestive system, liver) work properly
-And having strong and high functioning skin
What's the point of having strong muscles if you're constantly getting sick because your skin can't protect your body from germs and disease? Or trying to put on so much mass you hurt your digestive system from over eating?
Your body is interconnected and your overall health depends on every part working efficiently. If one part fails it can be devastating to your overall health and can lead to disease, sickness or worst.
My System makes you strong inside and out. It pays attention and develops every muscle in your body and focuses as much time on the equally (or more) important aspects of health like your skin, lungs and internal organs.
What is My System
At this point you are probably feeling either excited, skeptical or both. Every feeling you have is valid and I was a skeptic when I first heard all these statements. I'm here to tell you every things is true and since I started over two years ago, I haven't missed a single day; it's so valuable and essential to me day I wouldn't even consider missing it. Keep in mind this is coming from someone who was terrible in the mornings.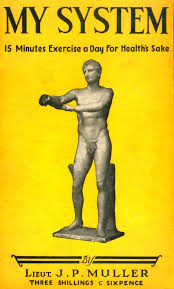 Question: So how does My System oxygenate your blood and loosen up all your joints while at the same time workout every muscle from head to toe and improve your lungs, skin and internal organs in a way that's fun, easy, and fast?
Answer: Through the power of exercise, deep breathing, self massage and cool showers and how they scientifically relax, strengthen and improve the overall health of your body.
My System was developed by one of the greatest and most respected health experts of all time named JP Muller. He was a celebrated athlete and spent fifty years developing My System to perfection.
Here at Perfect Health At Home we developed the only six week video series available on My System. There's a lot of theory involved and learning can be difficult without the aid of video.
You will be taught every step and go from absolute beginner in week one to expert in week six with no confusion or hassle.
How it Works
I've written about My System and how to do it many times on this website. Because of this I'm only going to very briefly describe the routine and benefits and provide you with links to read more. You can take an in depth look at My System here.
First off you start the routine with 9 bodyweight exercises. The whole workout requires no equipment or weights. These bodyweight exercises are standard strengthening exercises like pushups, sit ups and knee bends.
From these exercises you:
-Develop a strong core
-Improve Strength
-Build muscle
You will learn to do these in about 7 minutes.
Next, it's time for your daily shower. It's recommended that it's a cool or cold shower because it's better for your skin, hair and nerves. If you are only used to hot showers you should slowly decrease the temperature over a period of weeks or months so your body acclimates to the cold water.
Doing so will make you enjoy the cold water and it will feel so refreshing you will never want to take a hot shower again. Also, working out before warms your body up and it makes the cold water feel that much better.
After you completely dry off you begin the self massage portion. This and the deep breathing (which we'll get to in a second) is what really separates this routine from all other ones.
The massage takes up the last eleven exercises and takes 7 minutes to perform. Essentially you will be massaging and rubbing your skin and muscles. As a result, you skin will become soft as velvet yet firm.
Additionally you'll:
-Wrinkle proof your skin for life
-Improve circulation
-Remove all pimples and improve complexion
The secret to healthy skin is cleanliness and friction; the shower gives you the cleanliness and skin rub gives you the friction.
Lotions don't really work and will costs you tens of thousands of dollars of your life time. Nothing in the world will make your skin look and feel as good as these exercises. You can read more about the massage here.
Also, you will be massaging the important organs like liver, kidney and digestive system. Doing so will strengthen them and actually make them get bigger in size; which is so valuable to your health.
In between each exercise you will be performing two special standing deep breaths. This will improve lung function and metabolism. A good metabolism gives you more energy, more muscle and less fat. A poor metabolism can result in metabolic disease which includes diabetes, obesity, and anemia.
Deep breathing is one of the healthiest and best things you can do for your health and well being. Some of the benefits are better mood and freedom from anxiety, worry and nervousness. (Read more about deep breathing here).
You will also learn how to breathe properly in every exercise.
Be the Master of Your Own Health
The information exists for you to become perfectly healthy and to do so in a short period of time. There are countless benefits of My System and it is the best way to start your day.
Your body will feel good and be energized all day. You won't need coffee or any other stimulants because you will enough natural stimulation to last until you close your eyes.
The best part is how clear it makes your mind. You will get a genuine relaxation and calmness from this.
When you become a member at Perfect Health At Home and gain access to video series you are no longer a slave to sickness. You will learn over a period of six weeks how to keep yourself completely healthy for your entire life.
You will also learn from different health experts about:
-The secret to nutrition
-Facial massages that keep you looking youthful for life
-Relaxation exercises to keep your life stress free
Make sure to comment your thoughts and opinions below and I'll make sure to respond. Also, make sure to share the info with friends and family on social media. Thanks for reading!