Where to buy ginkgo biloba extract: Starwest Botanicals
Price: $11.85 and up
Guarantee: 100% satisfaction gurantee
Rating: 9.5/10
---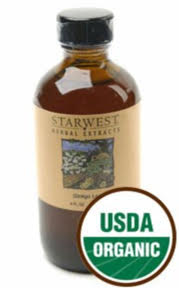 If you are looking for an excellent ginkgo biloba extract, I would like to recommend the ginkgo extract from Starwest Botanicals.
This is my favorite place to buy herbs and their extract is very high quality, effective and easy to take. They have different amounts to suit your individual needs too.
Before you look at products and pricing, you should know exactly what ginkgo can do for you.
Ginkgo Benefits
The ginkgo tree is the oldest surviving tree on planet earth, and came into existence over 200 million years ago; it can live over a thousand years too. In Asia, ginkgo can be found growing around Buddhist temples and is considered sacred in that part of the world.
There's two reasons ginkgo is so valuable medicinally. First off, this herb contains potent antioxidant compounds called ginkgo flavone glycosides and terpene lactones. Antioxidants help prevent and reverse cell damage that scientists believe is behind many degenerative conditions associated with aging, including:
Heart disease
Stroke
And many cancers
Secondly, ginkgo interferes with the action of a substance called platelet activation factor (PAF) that's produced by the body. PAF is involved in an enormous number of biological processes, including arterial blood flow, asthma attacks, organ graft rejection, and blood clots involved in heart attacks and most strokes.
Researchers have found ginkgo to be helpful with:
Alzheimer's disease and dementia
Memory loss
Stroke
Heart disease
Intermittent claudication
Impotence and erectile dysfunction
Sexual problems due to taking anti-depressants
Macular degeneration and cataracts
Hearing problems
Tinnitus
Vertigo
Intoxication
Hangover
Depression
Multiple sclerosis
Allergies
Asthma
Headache
Sinusitis
Effects of aging
It's also a natural blood thinner. You can see why this is one of the most popular and used herbs!
Why Starwest Botanicals?
Starwest started as a small retailer in Sacramento over 45 years ago. Their reputation grew, along with their business, because people recognized the quality of their products and they appreciated Starwest's affordable pricing.
Today they are one of the largest suppliers of herbs in America and have a modern, 100,000 square foot warehouse and production space in California. They store millions of pounds of herbs and have everything you could possibly want.
Every order comes with a 100% satisfaction guarantee. I've ordered from them many times and I'm always beyond satisfied.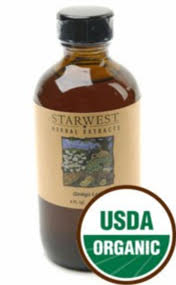 This extract is USDA Certified Organic, which means it was grown in the most ideal manner possible; unpolluted lands and no chemical pesticides.
Taking is really convenient too. All you have to do is add 10 to 20 drops in water or juice and enjoy. It's really that simple!
Safety Concerns
I believe herbs are far more superior than pharmaceuticals. Herbs treat the underlying causes, not just symptoms and they are generally very safe to use. This isn't the case with chemical medicines. Millions of people suffer the side effects of prescription medications when taking them as prescribed.
Having said all that, herbs still need to be respected. No serious side effects have ever been reported when taking ginkgo but some mild ones have. They include:
Upset stomach
Headache
Rash
As long as you take as recommend and not to excess, you should be fine. If you are using to treat a serious medical condition, talk to your doctor first.
Are You Ready To Try Ginkgo?
Ginkgo is one of the best herbs available and helps with so many problems. If you really want good results, you need a high quality extract from a proven supplier. Starwest certainly fits that description.
If you want to take a closer look at their extract, click below:
Check Out The Best Ginkgo Extract Available
If you have any questions, comment below and I'll respond as possible. If you want to spread the message about this 200 million year old herb, share on social media for friends and family to see.
Thanks for reading!