Where To Buy Turmeric Root: Starwest Botanicals and Buddha Teas
Price: Depends on amount and preparation ($4.33 and up)
Guarantee: 100% satisfaction guarantee
Rating: 9.5/10 on both
---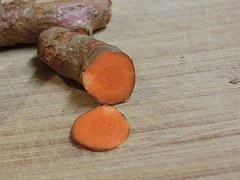 If you are looking to purchase turmeric, I would like to suggest my two favorite herbal suppliers, Starwest Botcanicals and Buddha Teas. Each offer very high quality and reasonably priced turmeric products.
Starwest has lots of variety and different turmeric preparations, like powders, extracts, rhizomes, and capsules. Buddha Teas specializes in herbal tea bags.
Before we look at pricing and choices, take a look at what turmeric can do for you.
Terrific Turmeric Health Benefits
The people of India have been using turmeric for thousands of years and it's very prevalent in their society. America is catching onto to the medicinal value of this wonderful herb and many are effectively treating a wide range of problems with it.
The compound in turmeric that is most helpful is curcumin and it boosts your immune system, soothes your stomach, acts as an anti-inflammatory, provides a natural source of antioxidants and protects liver and heart function.
Researchers have found turmeric is useful with:
Arthritis
Digestive issues
Cataracts
Heart disease
Liver damage
Amenorrhea
Athlete's foot
Diabetes
Fungal infections
Gallstones
Headache
Tendinitis
Bad breath
Personally, I use turmeric for its antioxidants and its ability to enhance immunity. I rarely get sick and I owe that to this herb.
There's several different ways to take turmeric, which you'll now see.
Starwest Botanicals Turmeric Products:
Starwest is one of the largest herbal suppliers in America and have been one of the best for more than 45 years. You can't go wrong with any of their products or prices.
Organic Turmeric Root Powder: $11.75 for a pound, $5.58 for 3.5 ounces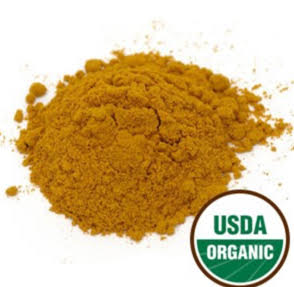 This root powder is USDA Certified Organic, which means it was grown in the most ideal environment possible. This preparation is very versatile too. You can sprinkle it on food, combine with soups and even add it to water.
You can make an infusion to help with digestion by adding 1 teaspoon to a cup of warm milk; you can drink up to 3 of these a day.
Starwest offers another powder option that isn't organic but is a little cheaper at $7.17 per pound and $4.33 for 4 ounces.
Turmeric Root Capsules: $43.75 for 500, $12.92 for 100
This is probably the easiest way to take any herb and is good for anyone looking to get the health benefits of turmeric; not for someone looking to flavor their food.
The powder is inside a vegetable capsule and is completely organic. Each supplement contains 500 mg of turmeric and you can take up to 3 a day.
Turmeric Standardized Extract Capsules: $145.83 for 500, $22.92 for 60
Extracts are my favorite way to take herbs. They're convenient and I find it to be the most effective way of taking turmeric. Usually extracts come in liquid form and you have to add a few drops to water or juice.
However, these extracts are inside capsules which makes taking much easier. Inside each capsule is 450 mg of turmeric powdered extract and 50 mg of turmeric powder.
You should take two a day with water or meals. Also, you can buy the powdered extract not in a capsule. The price is 273.17 for a pound and $71.25 for 4 ounces.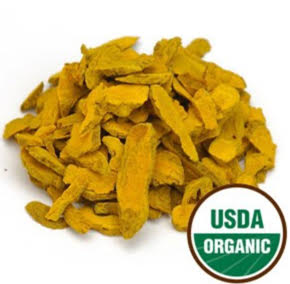 You've seen a lot of different turmeric options so far and believe it or not, Starwest offers even more. They have sliced organic turmeric rhizomes for $11.17 per pound and $6.00 for 4 ounces.
Additionally they offer a turmeric soap and a tea for joint pain that includes turmeric!
Buddha Teas is my go to place for herbal tea bags. Besides offering really high quality products, they are mindful of the environment and your health.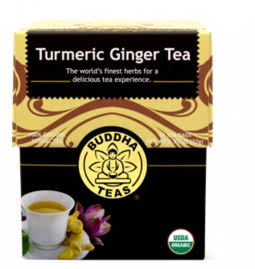 They plant thousands of trees a year and make sure to replace every tree used in the production of their tea bags. Also, they don't use any chemicals or fillers in any of their teas either.
The turmeric tea bags they sell are paired with ginger, which is an excellent combination. Ginger is especially good the common cold and flu. The two work harmoniously together to improve your health and provide you with:
Antioxidants
Essential vitamins and minerals
Protein and fiber
They offer three different amounts to suit your individual needs too. One box, which contains 18 bleach free tea bags, is only $6.99. If you are looking to buy in bulk and save a few bucks, you can buy 3 or 5 boxes at a time. 3 boxes will cost $17.82 (you save 34%) and 5 boxes is $27.95 (saving you 38%).

There's free shipping on any orders over $50 too!
Safety Concerns
Herbs are generally very safe because of their mild actions. They are especially safe when compared to pharmaceuticals which cause over a 100,000 deaths in America a year.
Still, herbs must be respected and turmeric is no exception. When taken in extremely high dosages people have known to get an upset stomach.
Don't give turmeric preparations to children under 2. If you are giving to an older child or the elderly, start out with 1/3rd to 2/3rd of the recommended dosage and increase as necessary.
Make sure to talk to your doctor if you are using turmeric to treat any medical issues.
Are You Ready To Give Turmeric A Try?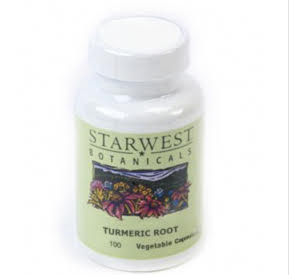 You should be! This herb is so helpful for many different problems and is an excellent way to keep your immune system strong. You'll be happy you decided to take turmeric when all your friends, family members and coworkers are getting sick and your are completely healthy.
I can't stress how important quality matters when it comes to herbs. If you get average turmeric or low quality turmeric, you can expect average and below average results; only the best gives the best results. The two companies mentioned in this article offer the best.
If you are interested in taking a closer look at Starwest Botanical's turmeric selection, click below:
If you want to look at Buddha Teas a little closer, click below:
If you have any questions or want to share an opinion, comment below and I'll make sure to respond as fast as possible. Also, if you want to spread the message about this wonderful herb, share on social media for friends and family to see.
Thanks for reading!