There's many reason why you'd want to lose fat on your stomach and a million ways to do it. Some people recommend torturing yourself with a strict diet of foods you can't stand while others recommend an exhausting amount of exercises. Those can help lose unwanted fat and slim your waist but it's unpleasant and can leave unsightly loose and excess skin behind. The truth is not many people know how to lose stomach fat fast  and how to do it effectively.
What to Look for 
When you are coming up with a plan to lose weight and lose fat on your stomach you should keep a few things in mind:
1) Make sure you pick an exercise routine that is enjoyable. Did you know there's ways to workout and exercise that are fun and don't cause exhaustion? It's extremely easy to have more energy after working out than before. The problem is people exercise and strain their bodies instead of exercising to relax. In a little we look how this is possible.
2) Pick a health regimen and workout that can be done at home and without equipment. Once you have the right knowledge you can easily workout from your bedroom or living room and get the same or better results than the gym.
Working out at home has so many benefits. First off, you don't have to pay high gym costs which saves you money. Secondly, you won't have to be intimidated by intense gym goers or embarrassed at a lack of knowledge. Working at home gives you the freedom of experimenting with exercises without feeling ashamed. Lastly, once you learn to workout out at home you can workout at anywhere–On vacation, at a park, you name it.
Also, it's better to learn to exercise without weights or equipment. You don't want to be dependant on weights or one machine. It's also safer to just use your own body. If you do bodyweight exercises you gain coordination, balance and become more intune with your body.
3) You want a routine that is fast. It's completely unnecessary to have a routine that lasts  for hours. This can cause physical and mental exhaustion and turn you off from losing weight completely. Realistically you want a routine that lasts about fifteen minutes.
4) Lastly, you want a full body routine that take cares of all your health needs. Losing stomach fat may be you top priority but while losing fat wouldn't you also like to tone your arms, legs and chest?
How about if you could make your skin firm and smooth as velvet and improve the functionality of all your inner organs like your lungs, digestive system and kidneys? I'm sure these are all things you crave.
You are about to discover a workout routine that satisfies all four of these things.
My System
I understand your skepticism if you cant believe a health regimen and workout can help lose fat on your stomach and be enjoyable. Also, that it can be done at home without weights or equipment under fifteen minutes while also tightening and toning your skin. And at the same time workout every muscle in your body while improving lung capacity and the function of every organ in your body.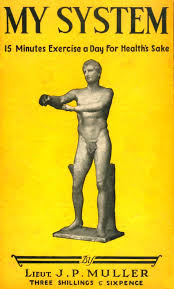 I'm here to tell you I was skeptic once too. But all my skepticism has disappeared and I know from first hand experience all those things are true.
My System is an exercise routine created by respected and celebrated health pioneer JP Muller. It combines the power and health benefits of exercise, deep breathing and self massage to scientifically relax, tone and strengthen your body inside and out.
If this is your first time here at Perfect Health at Home it's important to know everything on this website is safe and based solely on health truths that are meant to give you results.
My name is Dylan and I created this website because I've seen and been given bad health advice in the past and wanted to create a trustworthy place for all your health needs.
I have spent the last five years studying and discovering the truth about health. I believe you should practice what you teach and you should only recommend things you would do yourself.
My System is a major part of my life and have done it over five hundred times and haven't missed a day in over 2 years.
I have created a six week video training course inspired by JP Muller and by other health experts. You will learn health tips from different cultures that all have the same things in common; They get results and are safe and easy to use.
How My System Video Course Works
The course is six weeks long and brings any beginner to expert over that period of time. In all you will be learning over twenty different exercises that help lose fat and tone muscles–with a big emphasis on your stomach.
You will be building strength and flexibility up over the course of the six weeks and by the time you get to week six you will easily be able to perform all twenty exercises in their most advanced forms.
You will also learn about the truth about nutrition and other relaxation exercises form different health experts and cultures.
I mentioned before this workout is a combination of exercise, deep breathing and self massage. Here's how each works and the results they produce.
Exercise
You only need your body for all twenty exercise and there are 8 different exercises for your stomach. As a result your stomach and waist will shrink and your muscles will strengthen and develop.
Some exercises include pushups, squats and toe touches. Your whole body will look amazing and muscular from doing these daily.
Deep Breathing
Believe it or not your breathing is one of, if not the most important aspect to your body's overall health. Anxious people breathe shallow and fast, while confident people breathe fully and deeply. You can improve your confidence by simply doing breathing exercises.
Breathing exercises can be dangerous though and I have personally witnessed people ruin their health doing them.
In short, deep breathing can be dangerous if it done with strain or too aggressively and if done with improper form. (Read More about deep breathing dangers here)
The deep breathing is completely safe here because it is done in between exercises. This creates a need for more air and deep breathing. Because of this it's impossible to strain when deep breathing in between exercise.
Also, you will learn proper technique that is safe and right. Only one in fifty people breathe correctly!
Your breathing is also directly connected to your body's level of fat. Your metabolism is the source of your bodies energy levels and is used in producing muscle for your body.
Oxygen and the food you consume combust to produce your metabolism. If you breathe better you receive more oxygen per breath and your metabolism improves and fat diminishes and muscles develops. Having problems with your metabolism can cause metabolic disease like obesity and diabetes. These problems can be avoided with improving your breathing and diet.
The benefits of deep breathing are endless and you can read about them here and about the science of breathing here.
Self Massage 
The first nine exercises in the video are regular bodyweight exercises which include push ups, sit ups and leg raises with deep breathing in between. After you take a cool shower which is good for your nerves, hair and skin and is much better overall than hot showers.
Once done with the shower and completely dry you begin the self massage which makes up the last eleven exercise of the system. The benefits of this message to the skin, muscles and organs are plentiful and these exercises are so valuable to you. You can read more about the massage here.
I'll briefly explain how it works and the benefits.
The secret behind getting perfect skin isn't through lotions or different creams. This can be hard to accept and you can read what lotions do here and how they just give the illusion of health; not actual health. Big skin care companies have very good marketing teams and do a very good job of making you believe they work.
The secret to perfect, firm and smooth skin is friction and cleanliness.
These exercises combine bodyweight movements like toe touching and squats with a very precise rubbing pattern with your skin which create friction (the cleanliness comes from the shower.)
As a result of doing these rubbings (which take 7 minutes) you will:
Get skin as smooth and soft as velvet
Improve circulation
Firm skin and muscles
Make your skin wrinkle proof for life
Improves all organs with massage (Deep Breathing creates a massage for the organs too)
Massaging your organs actually increases the their size and strength. Your digestive system will work perfectly.
Your skin is so important to your overall health. Your skin is your biggest organ and helps eliminate waste from your body. If not working properly you will have poor complexion, sweating problems and pimples.
The author's skin was so strong he could ski and ice skate in the middle of the winter completely nude or in just a loin cloth and be perfectly warm–and he was doing this into his seventies; this is the definition of strong and healthy skin.
Lastly, the skin rubbings will help tighten up any loose skin you may get from losing weight around your stomach.
The Last Few Words
You will never obtain perfect health with pills, lotions, and creams. They act as band aids and never truly fix the root problem. You will have the illusion of health but you will never have the true benefits of health. The benefits of endless energy, long life and calmness of nerves.
Your mood improves and you will almost feel it impossible to feel anger, depression or anxiety. Those last three moods can only exist in an unhealthy body!
One last thing:
Don't just focus on your muscles and muscles alone. There are equally important aspects of health that need to be tended to daily that are almost completely overlooked. I've mentioned them a few times throughout this article. The video series here at Perfect Health At Home will teach you everything you need to know about maintaining health for life in the comfort of your home. Everythings is easy to use and completely safe.
So invest your time into the course. You will feel amazing and have a clear head everyday. If you want to learn a little more about My System you can read here.
Comment below with any questions you have.
Have a Healthy Day!